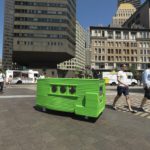 The Boston Globe
Advertisement – Continue reading below
Location: Boston, Massachusetts
Number of guests: 1
Price: N/A
Rating: N/A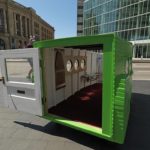 The Boston Globe
Tiny homes are all the rage these days, so it's no surprise that Airbnb owners would want to get in on the movement, too. And that's just what sculptor Jeff Smith did. Coming in at 25 square feet, this house on wheels, which was designed by Smith, is the world's smallest Airbnb.
Now, for someone like me, who is very claustrophobic, there's no way in the world I'd ever stay in this Airbnb. That didn't stop YouTuber Ryan Trahan, though, who spent 24 hours in this little house despite being claustrophobic. "When I was little, I got stuck in this condensed space in my closet, and it was super scary for me, and I held a fear of claustrophobia for a long time afterward," Trahan told Insider. "I saw [that the tiny house] was 25 square feet, and I was like, 'oh no'."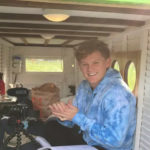 Insider
But Trahan decided to try it out anyway, and for a full 24 hours he endured the "oddly comfortable" experience, as he described it. What's more is that the house was more spacious than he'd expected—although he couldn't stand up in it. There was only enough room to sit up or lay down. And get this: the home comes equipped with a working stove, a sink attached to a tank of water, a table made from an old ironing board, and a toilet, which is just a hole in the floor with a drawer of kitty litter underneath it. Unfortunately, there's no heat, A/C, or Wi-Fi.
So, how much does it cost to stay in an Airbnb this size? Well, I'm not sure of the exact cost today, but back in 2016, the year after it was constructed, it was going for $55 a night.
Advertisement – Continue reading below