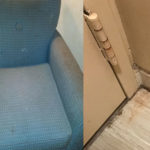 TripAdvisor
Advertisement – Continue reading below
I've stayed at this hotel before and can verify that it's not in the best condition. The first thing I noticed was that the room they were trying to put me in had no peephole whatsoever. The hole was still there, though, just no glass—meaning that anyone could walk up to the door and look right in the room. Not only that, but all sorts of bugs could get inside the room, too. The next thing I noticed after they put me in a room with a properly functioning peephole was that it reeked of cigarettes and other weird smells. Plus, there was hair, dirt and crumbs all over the place.
Here's what other guests had to say:
"Do not stay here! / We got here late and had been traveling all day and was too tired to go looking for another place. I don't normally write bad reviews but I use trip advisor a lot when setting up trips and don't want anyone else to make the mistake of staying here!!! / Our room smelled sooo bad like cross between wet dirty dog and urine, room was very damp too, took off shoes to get in bed and there was so much dirt had to brush off bed, the hair dryer cord had black mold growing on it, we slept for a while but got up early cause it stunk so bad and we were so disgusted that we didnt shower there just got out as fast as we could. If you are in the area and tired like we were I would find a place to park and sleep in my car!" [sic] -Tim W.
"Horrible 'motel.' Do not stay here. I spent $175 to spend 2 hours in this hotel. My sons ball tournament was cancelled and I didn't even spend the night before heading back home. The motel is old, musty and filthy. The pool area is horrible. The pool had room keys in the bottom of the pool and a pool light and wire sitting on top of the pool ledge. Dead roach in pool vestibule. 'Keyed' pool doors just push right open . I didn't feel safe at this place. Filthy moldings and door in the hotel room…Horrible !!!" [sic] -Robyn E.
Advertisement – Continue reading below