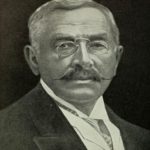 Wikimedia Commons
Advertisement – Continue reading below
Adolf Beck's situation is a case of mistaken identity. Unfortunately, he spent several years in jail before he was released. Here's what happened:
A Beck lookalike named Wilhelm Meyer, who went by several aliases, including John Smith, tricked women into handing over their jewels to him. He told them that he was a nobleman who could examine their pieces for size and return with more impressive pieces. Obviously, he never came back. He was eventually arrested and did five years in prison.
Fast forward 18 years later, and a man named Adolf Beck was walking down Victoria Street when one of Meyer's victims identified him as the thief. Of course, he denied the allegations, but was arrested and charged anyway. What's more is that other women started popping up and accusing him of stealing their jewels as well. As luck would have it, Beck was tried by the same judge who had prosecuted Meyer. And, because the two looked so much alike, the judge was convinced that Beck was Meyer. Beck ended up doing seven years in prison and was released on parole in 1901.
And if all of this wasn't bad enough, Beck got arrested again in 1904 after another woman mistook him for Meyer. But the woman wasn't 100 percent certain that it truly indeed was Meyer, so the trial judge decided to delay sentencing. It's a good thing he did, because Meyer was arrested a few days later for conning women out of their jewelry yet again. Consequently, many of the women who had accused Beck recanted their stories. Beck was pardoned and given £5,000.
Advertisement – Continue reading below