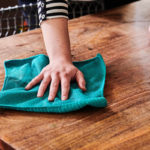 Kitchn
Advertisement – Continue reading below
Materials Needed
An empty box/basket/bin
Two buckets
A spray bottle
Warm water
Dishwashing liquid
White vinegar
A lemon
Microfiber cloths
For most of us, the kitchen table is the place where we unload everything—the mail, the car keys, the grocery list, and so on. So, it makes sense that the first step to cleaning it is to get rid of the clutter. That being said, gather up any items that don't belong on your kitchen table and toss them into an empty container.
The next step is to clean the table. This will vary depending on the tabletop. For example, if you have a wooden table, you will need to fill both buckets with water, but add a cup of vinegar (this has antimicrobial properties) and a few drops of the dish soap to only ONE of the buckets. Mix the solution, dip your cloth into the mixture, and wipe down your table. Then, take a clean, dry cloth, dip it in the bucket of plain water, and rinse the mixture from the table. Lastly, take another clean, dry cloth and use it to dry your table.
If, on the other hand, your tabletop is glass, fill a spray bottle with a 50/50 solution of warm water and white vinegar, and spray the solution over the table. Wipe it around using the microfiber cloth. Lastly, buff the glass with a dry microfiber cloth.
Advertisement – Continue reading below